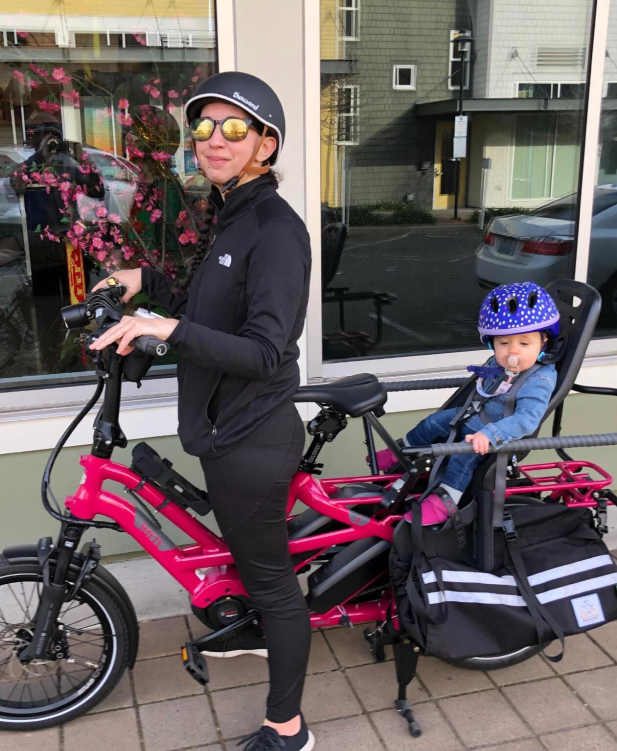 About Hadeel
My name is Hadeel Jeanne and I'm running for 46th Representative Position 1 and I'm your neighbor in the Licton Springs neighborhood. You may have seen me pedaling around our district with my daughter Eleanor, who was born right here in the 46th, but if we haven't had a chance to meet yet I certainly hope we will soon! I love getting to know my neighbors and I'm all about forming strong community bonds.

I'm running to represent the 46th because I love my neighborhood and I love my neighbors. The last few years have been so hard for so many, and we've left too many folks without the help they need. I think we can, and must, do better.

Too many of our neighbors are sleeping on the streets because the cost of housing is too high and because we haven't provided them with the services they need to get on their feet. Instead of providing those services and the investments in housing infrastructure that are so deeply needed, we inhumanely sweep our neighbors from park to sidewalk to temporary shelters that aren't appropriate to meet their needs.

Long time residents of Seattle and the 46th district are constantly being priced out of our neighborhood and forced to move further and further away, increasing their reliance on cars while feeling the impacts of climate change every day.

As a young parent, I want a future where my children will be able to afford to remain in the city they grew up in. Sadly, this will not be a choice for our children and grandchildren unless we immediately address the housing crisis.

The decisions we make now about education, housing and land use, transportation, and so much more will shape the future for the next generation. We need to be funding our schools and other priorities like housing and climate resilience by reforming our upside down tax code so that the rich actually pay their fair share. We can be doing so much more to ensure we are leaving our city and state better than we found it, for the sake of our children and future generations.